The Right
Choice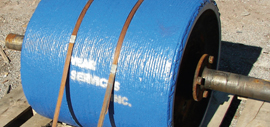 Coal mill rolls and bowls, Pulverizer tires and tables, Rotor elements, all of these parts are subject to extreme wear.
If you use new castings you're probably throwing away 75% of the casting, that's money down the drain. Let wear services restore your worn parts. restoration is by far the most cost effective way of keeping your equipment working in optimal condition. Consider it routine maintenance, just like changing the oil in your car. Our experience ranges from small rolls, such as the CE 493's up to the larger sizes such as MPS 89 tires. We take every precaution to ensure that your parts are built to either OEM specifications, or your provided specifications.
Mill Wear
Parts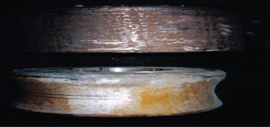 Wear Services Chrome Carbide Overlay
will dramatically improve the wear life
over OEM replacement parts.
By improving the wear life, costly down time
will also be reduced. Stone and rock, sand
and gravel, concrete, cement, minerals, coal and metal ores all these materials take their toll on equipment. Let us resurface your worn rolls and see for yourself the cost benefits over new rolls.
With an average of double the life the benefits are almost immediately visible.
Services
Included
Removal of loose material
Build-up and hard surfacing to specification
of a new roll
Greasing of the core of the roll to prevent rusting
Paint or clear coat to your specified color
On Site or In House
Services
On site restoration requires that we do our work within your shutdown time frame. we will work around to complete the job, usually before schedule.
Our work will be approved by your staff before we leave the job site.
We restore rolls and tires in  our shop in Bessemer Alabama. We have multiple stations to accommodate several parts at once.
The business of restoration requires that we work around your shutdown schedule, so we understand the need for a quick turnaround. All of our parts are built using automated welding equipment, to ensure consistent results. When the restoration is complete each part is then measured and checked before it's shipped back to you.