The Right
Choice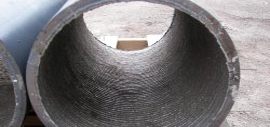 Chromium Carbide Overlay pipe is a combination of a mild steel base material onto which a highly abrasive resistant welded overlay is deposited with an open arc process.
We use an oscillating table with one welding head to arc weld the chromium carbide to
the base material. We can handle diameters from 6" up to 24" after which we fabricate the pipe from our Chromium Carbide Overlay Plate. The overlay is deposited perpendicular to the flow of material through the pipe resulting in a longer wear life.
Chromium Carbide
Overlay Pipe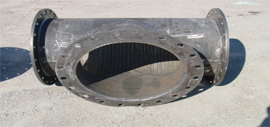 Our Chromium Carbide Overlay Elbows are lined with the same deposited material except welded by hand.
Overlay is deposited in either a single pass application which is 1/8" to 3/16" thickness or a double pass application which is 1/4" to 3/8" in thickness. Wear life of our Overlay Pipe can be up to 15 to 1 over standard wear pipe. The longer wear life of our products reduce maintenance hassles, costly down time, and material loss.
Applications
On
Ash Handling
Clinker Piping
Cullet Glass Handling
Slurry Piping
Available
Finishes
We produce our overlay pipe in single pass (1/8" - 3/16"), double pass (1/4" - 3/8").
We also manufacture overlay plate on a variety of base Materials including A36 Mild Steel, 304, & 316 Stainless Steel.
Chrome Carbide overlay pipe can be used in any situation suited for wear pipe.
This highly abrasive resistant Pipe can be installed as easily as mild steel pipe.