Applications
WearGuard 700 is not a structural component, but the base material can be, in
many applications the base material is used for the shell of a hopper or chute. Some applications
include:
Chute and Hopper Liners
Skirtboard Liners
Screw Conveyors (augers)
Coal Handling
Glass Handling
Rock Handling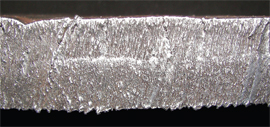 Available finishes
We produce our overlay plate in single pass (1/8" & 1/4"), double pass (1/4" & 3/8"), and triple
pass (1/2"). We also manufacture overlay plate on a variety of base plates including A36 Mild
Steel 304 & 316 Stainless Steel, A514 (T-1), and AR400.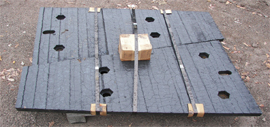 If your "Old Problems" are not listed on our site, we have many "New Solutions" available. Our dedicated staff is ready to meet all of your wear needs.
WearGuard 700
WearGuard 700 is a unique chromium carbide overlay on a mild steel
base plate. It is designed for areas with severe impact and abrasion. Chrome Carbide can
be formed, rolled and cut to your specific needs.
Wear Services, Inc. is an industry leader in hardfacing. We use various alloy compositions to address specific wear applications. All of our wires have been formulated to provide the best wear protection.